The bulls have been in with the cows since the end of May and it looks like it is going to be a very busy first 3 weeks in March. Now, the bulls can lay under the trees and enjoy the summer. The calves are growing like weeds and looking very nice.
For the first time at Almosta Farm, we had a request for a farm tour with a group of executive assistants from Wayne State College. It is always fun to talk about the breed and the farm but it was especially fun to educate and visit with these ladies.
It has been a very busy summer so far and it looks like it isn't going to slow up any time soon but that's not a bad thing. A couple of friends and I went to the AHCA Gathering held in Lehighton, PA in June. It is always a great time to tour a farm and catch up with friends that I don't see often. They also had some great educational sessions ranging on why buy registered cattle, to marketing our beef.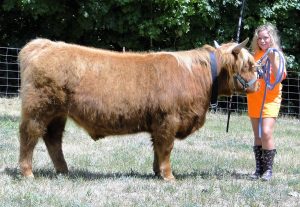 Then it was off to the 6th Annual Midwest Cow camp held at Maple Hill Highlands in Stanwood, MI. I look forward to this every year, picking up juniors and their cattle along the way and spending time with my dear friend Dawn. It doesn't get much better than traveling with 4 teenagers. This year, i think it was the best camp that Dawn has put on. There was the standard obstacle course (Bovine Trail Course), I conducted the truck and trailer driving class. Ginny Miller was able to come and teach the juniors not only about showmanship but also the different cuts of meat and breeds. The Juniors also witnessed Dr. Miller, DVM AI 3 cows and gave a talk on a cow's cycle. Dr. Bowman, a professor of Parasitology at Cornell University happened to be in the area and taught the Juniors how to look at manure samples through a microscope for signs of worm infestations. Dr. Miller's wife is also a DVM, she gave a talk  on chiropractics and acupuncture making an adjustment on a Highland cow. Of course, when they weren't busy learning, they had the traditional water gun fight and a fishing contest. It doesn't get much better than to watch these kids learn and try new things, feed off each other but most of all make new friends.
Now it's time to get ready for fair season. Will be leaving for the Boulder County Fair held in Longmont, CO in a week. Then I will take a couple of cow/calf pairs to the Knox County Fair held in Bloomfield, NE as a display.
I hope to see you on the road this summer.