The weather is finally saying spring is in the air. Here in the Midwest we try not to complain about an abundance of moisture because we all know that the water faucet can be turned off at any time. The sun is out and no wind the past few days, helping the grass grow and the dry lots firm up.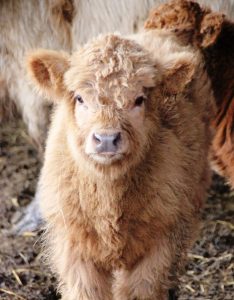 Calving started the 2nd of March with 12 calves expected. So, far there are 2 cross bred heifers that have Shorthorn Moms, 2 purebred heifers , 7 bull calves . I have one more due the 12 of May. As with anything there were challenges , but everyone came through them with flying colors.
Spring also means the Heartland Highland Sale held in Lebanon, MO. It was so good to catch up with Highlands friends that I only see once a year and meeting new friends.
May 6-8, is the 7 th Annual Minnesota Junior Spring Classic held in Austin, MN.  I will be taking 4 yearlings for the kids to show. This is an all multi-breed show with about 200 participating.  NCHCA has sponsored a Highland Show and we are so excited to expect this to be a great showing of about 22 animals, consisting of purebred females, crossbred heifers and steers.  It is fun to watch the Juniors dust off their show sticks.  We are very excited to have some new families bring their animals for their first show.
The past year has been an adjustment time for Almosta Farm with the passing of our senior bull Spring Flight Connecticut Yankee. He had some heifers and possibly a son that I wanted to keep.  So we are excited to be offering For Sale something for everyone this year; our 3 in one special package; a bred female with her 2016 calf by our now senior bull Skye High Koal and junior Bull, Finley Falls Boyd.