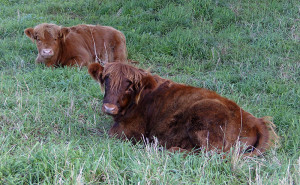 It is the end of August with next week being Labor Day weekend. That is a sign that summer is winding down. I have no clue where it went. For me it has been the busiest summer I have had in a very long time with many miles put on the truck and trailer and the same 3 heifers coming along. They are by now, "bomb proof". These three girls are certainly good sports and traveled well.
Weather wise, it has been a cool (by NE standards) summer with timely rains. The pastures haven't looked this good in a very long time and the cattle look great. It certainly saves on the hay bill.
Now it is halter training time with the first day being yesterday, 8/23/14. I never have any expectations or anything else planned for the whole day. After all, I am on Highland time. I was pleasantly surprised that it didn't take long and everyone was good. The true test for me is will they come in the next day. They did!! So, we are off to a great start.
The fall show season kicks of the end of next month in Austin, MN. All of the calves go to this show with 8 Juniors waiting to take care of one for the weekend. They pick out a calf to feed, pick up after, wash and show. Everyone has a great time and the calves get exposure to many things and quickly figure out that they get pampered. For me it doesn't get any better than to watch a child and calf hook up to become a team in a very short period of time.
I hope to see you at one of the many Highland venues this fall.