The calendar says that we are well into spring, but Mother Nature has had other ideas. In the past 2 weeks, we have had 3 snow storms with about 11 inches of snow total. It has been quite warm so it's been very heavy; full of much needed moisture. We have also gotten quite a bit of rain between storms. In our area, that has been very good news and has helped with the drought conditions we have been in for the past couple of years. The week before Easter, we harrowed the pastures, fertilized with grass seed mixed in. They were in dire need of attention and with all of this moisture, hopefully the pastures will come back.
Things haven't slowed down around here even with the weather not being very favorable to work outside. I am involved with the NCHCA Jr. Committee and we have been busy making plans for the Jr. members. We have some new projects for them to participate in, with a Jr. being awarded a donated Highland steer to raise to go to market and another very special award: Jr. of the Year.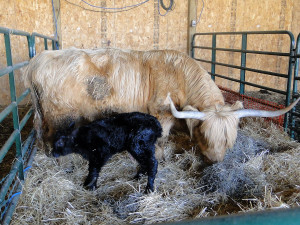 The calves are thriving and growing like weeds. Haley was the last one to have her's on April Fool's Day. She had a very nice black bull calf from Koal. So, only time will tell if he can walk in his Daddy's hoof steps.
A couple of weeks ago, I took a couple of heifers to the MN. Jr. Spring Classic in Austin, MN for Bailey and Reilly McConnell to show. There were 320 kids entered in this cattle show, with 11 Highlands kids bringing their cattle for their own breed show. This is the 4th year that the kids have had their own breed classes. It is pure joy to watch these Highland kids grow with confidence and ability as time goes on. Plus, it is a lot of fun to supervise the kids and have someone else do the work. Even though it was cold and wet, I don't think any of us noticed.
Spring is full of new beginnings and everything seems fresh. May your calving season be full of joy and uneventful.
It is shaping up to be a busy summer for Almosta Farm; hope to see you at one of the events that we'll be attending.