Sky High Koal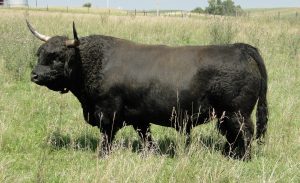 Our JR. bull is Skye High Koal born Feb. 22, 2007. His sire is Sunset Limited Edition and his dam is Du Boise Panthere. I had heard about Koal from a friend that was bringing him and his dam to Michigan from Ontario Canada, when the borders opened in Jan. 2008. He then came home to Nebraska in March 2008. He is structurally correct, well muscled, long and taller than Yankee and I was smitten with his genetics. In the summer of 2008, he started his show career and it has been nothing short of a dream come true. We had him drawn for domestic semen use in the Spring of 2009 and he has been drawn for international (not EU accredited) use in the summer of 2010, with our first breeder from Chile making a purchase.
He had his first calf crop this year including an Angus cross steer and I am thrilled with them all. I can see where he is also putting his stamp on them; being correct, well muscled and especially great dispositions. I am looking forward to seeing his offspring in the pastures of a Grass Fed Program, in the show ring and improving a breeding program.
—————————————————————————
Maple Hill Cecil
We have had Maple Hill Cecil since he was 10 months old. He was successfully shown in 2015. He is structurally  correct, well-muscled but most of all has a great disposition. With Scott of Craycombe, Jock of Mapleview and Cedrus of Swain, his genetics will be a great addition to our breeding program.
Looking forward to his first calf crop in 2017.
—————————————————————————
Almosta Farm's Brogan
—————————————————————————
In Loving Memory:
Spring Flight Connecticut Yankee (D)
Feb. 10, 2004 – July 6, 2014
It is with a very heavy heart to inform you all of Yankee's passing.
He wasn't aware that he was coming to Almosta Farm in Jan. 2005 to become their first bull and all of the "life lessons" he was going to have to teach me about bulls. He not only had the patience and grace, but I believe a sense of humor with his teachings. I think I saw a time or two, him rolling his eyes as if to say; "it's just Mom". He never had a bad day; always treating me with kindness and respect.
He always had a twinkle in his eye and only asked for a brushing now and then. He leaves behind a legacy of offspring that will not only carry on his conformation traits but also his sweet disposition.
Because of Yankee teaching me what it takes to raise and handle a bull, I have grown with confidence and hopefully some skill.
I thank you my dear Yankee for this wonderful journey that we had and teaching me how to "dance".
Our senior sire is Spring Flight Connecticut Yankee born Feb. 04, 2004. His sire is Homeboy of Five Star Farm and his dam is Ridge Top Picaboo. I looked for a year to find certain genetics that I wanted to introduce plus I wanted him raised by a woman, as I was going to be the primary care giver. In Jan. 2005 Yankee came to Nebraska. He was shown that year(2005) in his first show and won Grand Champion Bull at the Gopher State Classic in Farmington, MN. He was the Reserve JR. Yearling Bull of the Year on the 2005 Roll of Excellence.
In the spring of 2006, he had his first calf crop and they were thick and correct with great dispositions. Since then he has consistently produced "cookie cutter" calves, with diverse female genetics. His offspring excel in the show ring and in a Grass fed program. His son, Almosta Farm's Harley, had the largest rib eye in the bull test that we participated in and was the 3rd highest selling bull in the sale.
These 2 bulls compliment each other on what they can offer genetically. They both have scored high on their DNA testing for Rib Eye, muscling with each one having the wild gene for color.