Almosta Farms Brogan (D) Reg. No. 54,545
Brogan was born on a very cold March 17, 2015 . The minute he stood up on his wobbly legs, I knew he was going to be special and carry on his sire's name and genetics: Spring Flight Connecticut Yankee (D).  He was the first bull calf that his dam: LEA Bancroft (D) ever had and Yankee's last calf.  I was also realistic in knowing if he didn't continue to grow well, then he wouldn't carry on his parent's genetics. My goal with our breeding program is to produce offspring better than their parent's and Brogan has exceeded them.
For a small breeder it has been pure joy taking him out to various venues for the past 4 years.  With his great disposition, he was shown by AHCA Junior, Maryn Cowell winning many awards throughout his show career, being honored to be on the 2016 ROE Junior Bull division list.
Brogan is following in his sire's hoof prints, producing cookie cutter offspring that have great feet, structurally correct and great muscling.
His last ultrasound was performed at the 2018 National Western and are as follows:
21.84″ Ribeye
     .18″ backfat
 4.09% IMF
He had his first calf crop in spring 2018 and has produced consistent quality offspring ever since. Semen is available for domestic delivery only.
—————————————————————————
J Bar T'S Xtreme (D) Reg. No. 56,705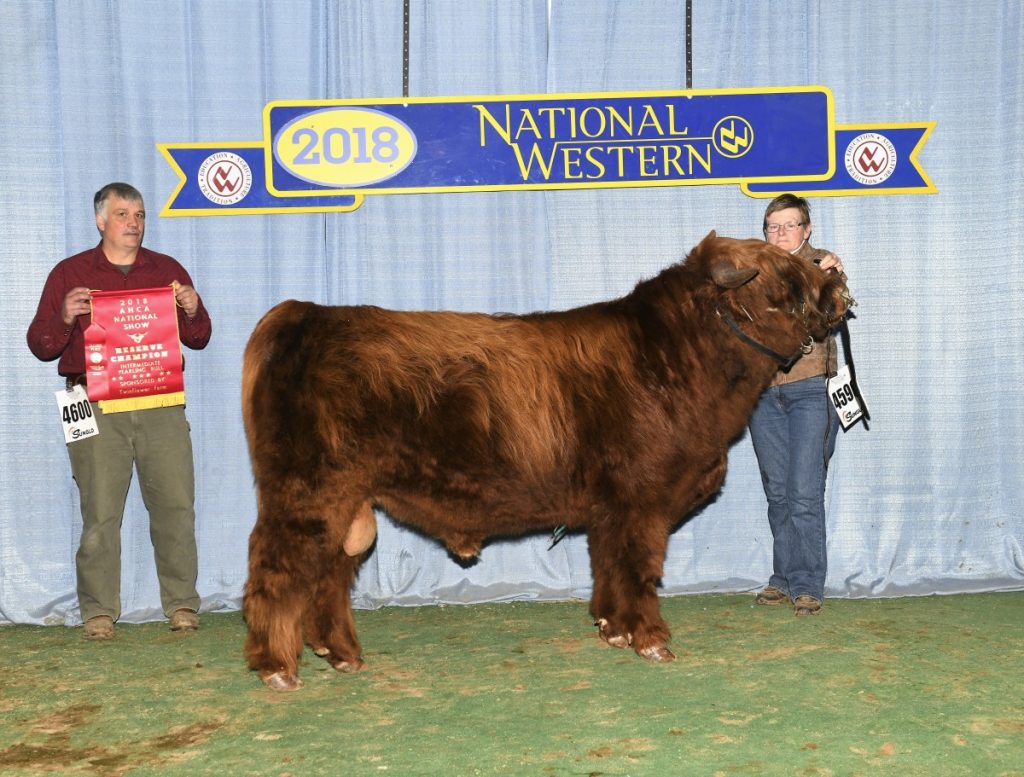 We are very excited to have Xtreme join Almosta Farm.  His genetics speak for themselves with his sire: HSC Steel Reserve and dam: RTH Xena.  He has a great foot and leg under him, structurally correct and well muscled.  But most of all a great disposition that I am sure will be passed on.  He will have his first breeding season this year consisting of 5 females.
We are excited to see his calf crop in 2019.
He will be on the trailer in 2018 going to various venues. He is started extremely well at the 2018 NWSS with Reserve Champion.
As you can see here, Xtreme has matured into a tremendous bull ready for work!
---
---
Sky High Koal (D) Reg. No. 46,377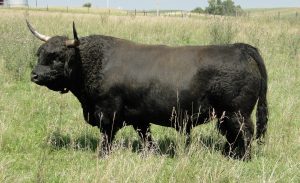 We are so honored to have had Koal for 10 years and the journey that he took Almosta Farm on is beyond words.  He maintained his disposition and was so consistent on the quality of his offspring whether they were purebred or crossbred calves.  Koal's offspring have also done well in the show ring.  With that being said, Almosta Farm and Maple Hill Highlands from Stanwood, MI reached an agreement to have him move on to Maple Hill.  He is thriving in his new home and his new fold of females.
Almosta Farm has semen straws available for sale for domestic and international sale.
—————————————————————————
Almosta Farm's Baron (D) Reg. No. 58,184
Baron is one of the  last sons of Skye High Koal and a grandson of Spring Flight Connecticut Yankee.  Physically he is everything I was hoping for from him. He is the dark mahogany with frosting from his Dam and Grandsire. He will have a small number of females this year including a commercial cow, to see if he can carry on his genetics to the next level. 
He was on the road this year and achieved being on the 2019 ROE Junior Yearling Bull division.  
As you can see here, Baron is ready to go to work.
—————————————————————————
In Loving Memory:
Spring Flight Connecticut Yankee (D)
Feb. 10, 2004 – July 6, 2014
It is with a very heavy heart to inform you all of Yankee's passing.
He wasn't aware that he was coming to Almosta Farm in Jan. 2005 to become their first bull and all of the "life lessons" he was going to have to teach me about bulls. He not only had the patience and grace, but I believe a sense of humor with his teachings. I think I saw a time or two, him rolling his eyes as if to say; "it's just Mom". He never had a bad day; always treating me with kindness and respect.
He always had a twinkle in his eye and only asked for a brushing now and then. He leaves behind a legacy of offspring that will not only carry on his conformation traits but also his sweet disposition.
Because of Yankee teaching me what it takes to raise and handle a bull, I have grown with confidence and hopefully some skill.
I thank you my dear Yankee for this wonderful journey that we had and teaching me how to "dance".
Our senior sire is Spring Flight Connecticut Yankee born Feb. 04, 2004. His sire is Homeboy of Five Star Farm and his dam is Ridge Top Picaboo. I looked for a year to find certain genetics that I wanted to introduce plus I wanted him raised by a woman, as I was going to be the primary care giver. In Jan. 2005 Yankee came to Nebraska. He was shown that year(2005) in his first show and won Grand Champion Bull at the Gopher State Classic in Farmington, MN. He was the Reserve JR. Yearling Bull of the Year on the 2005 Roll of Excellence.
In the spring of 2006, he had his first calf crop and they were thick and correct with great dispositions. Since then he has consistently produced "cookie cutter" calves, with diverse female genetics. His offspring excel in the show ring and in a Grass fed program. His son, Almosta Farm's Harley, had the largest rib eye in the bull test that we participated in and was the 3rd highest selling bull in the sale.
These 2 bulls compliment each other on what they can offer genetically. They both have scored high on their DNA testing for Rib Eye, muscling with each one having the wild gene for color.